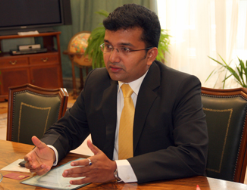 DR.RAJESH RAJAN
Indian Association of Clinical Cardiologists
Our mission: to conquer cardiovascular diseases in rural India
The mission of Indian Association of Clinical Cardiologists (IACC) is to promote the Clinical Cardiology, Preventive Cardiology and Continuing Medical Education (CME) interests of Clinical Cardiologists across the country who promotes primary and secondary prevention of cardiovascular disease (CVD).
We are focused on structured preventive strategy for cardiovascular diseases. We represent the nation's thought leaders who dedicate their work towards treating poor and needy people of Rural India, identifying risk factors, newer screening modalities, and developing and promoting effective preventive strategies to reduce cardiovascular diseases in Rural India.
Cardiovascular diseases being the leading causes of death and disability both in the developed and developing nations, we are proud enough to represent the only organization which can offer around 2600 Clinical Cardiologists as well as preventive cardiology specialists to any part of the world.
All Clinical Cardiologists are eligible for membership in this association.
Our main aim is to decrease cardiovascular mortality in rural India by promoting Primordial , Primary and Secondary Prevention.
"Heart disease before eighty is our fault, not God's or Nature's will"
-Dr.Paul Dudley White